Ocisport
Outdoor Experiences
20 Years Generating Experiences
Since 2001, OCISPORT has established itself in the creation and development of cycling and running events, as well as large-format festivals, always with an international vocation. A journey of 20 years in which the company has only grown, developed new projects and marked important milestones in the organization of outdoor sporting events.
Combining our vocation for high competition and the promotion of popular sport, we have always aspired to generate the best scenarios for our athletes to project their experiences in the hands of a significant number of brands and local promoters who understand sport as a strategic catalyst.
We have been doing it in high-level events such as the UCI MTB World Champs and World Cup Vallnord in Andorra, the Sea Otter Europe, the Sky Games and the Buff Mountain Festival and also in many others of a markedly popular and participatory nature such as the Benet Games , the Salomon Run Barcelona or the Mountain Bike Marathon circuit.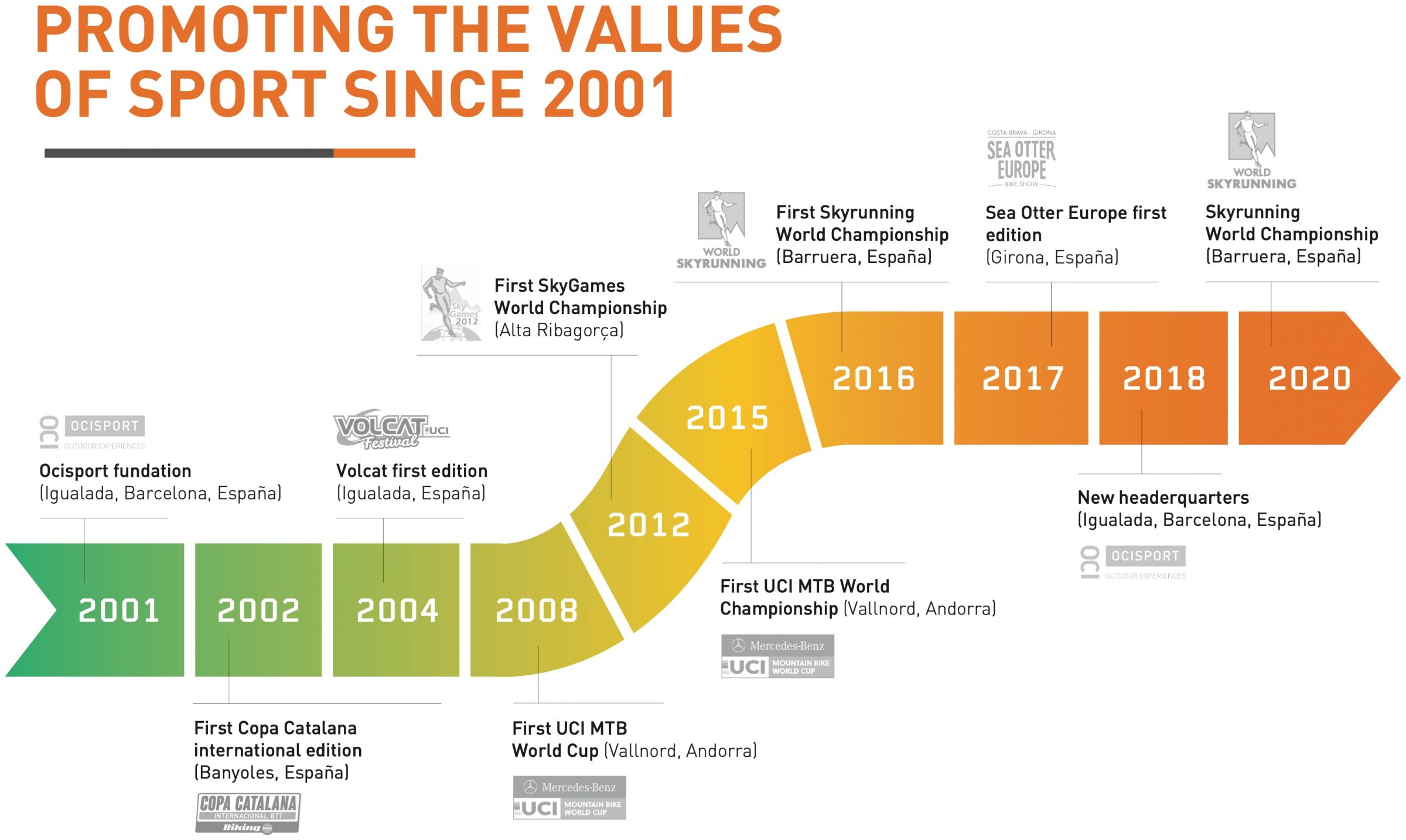 The Team
Ocisport is made up of a team of people focused on the organization of sporting events, in the world of cycling and running, aware of the responsibility we have with those who decide to join us to make their dreams come true.
We have a collective mentality based on a positive attitude, ethics and diligent work, a competitive spirit and orientation towards our clients: athletes, brands and local promoters. We love commitment, persistence, and hard work, and these are stamped on every event we host,
We are athletes and we are convinced of the enormous capacity that sport has to get the best of ourselves with an unwavering commitment to its values ​​and the will to project them in everything we do.
Albert Balcells, CEO of Ocisport
Passion for Sport and Nature
We feel passion for nature and we understand outdoor sport as an expression of this feeling that drives us to enjoy it from respect and commitment to the scenarios we project with our events. That is why we work to join the Biosphere Responsible Tourism program with which we assume the commitments and values of social responsibility and sustainability with the corresponding international recognition and certification.
Ocisport Community
We work for all those who decide to accompany us and experience our proposals. For those who face it with passion, looking for the desired ARRIVAL or enjoy the WAY, to live sport and nature to whom generates a vital aspiration capable of thrilling and projecting the values of sport.